During the last six months we developed a new solution in collaboration with a relevant partner in the Sanitization industry. Ready to market in Q2/2021, we can now properly introduce the most relevant product for today's biggest challenge: making passengers and crew safe onboard during the Covid-19 Pandemic.
breathES, our innovative technology for Air Sanitization, contributes to the fight against the pandemic by integrating different technologies with proven reliability and safety already tested in lab and in several civil and industrial buildings.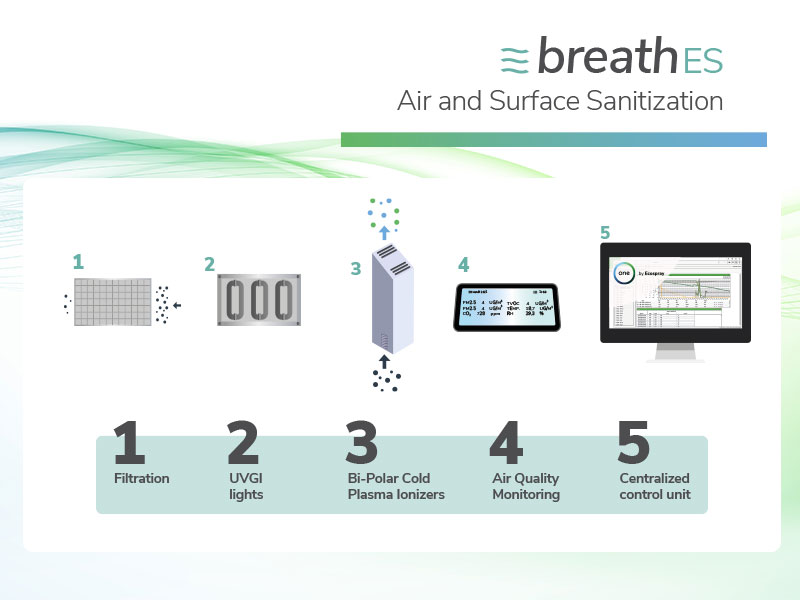 Our modular solution provides best-in-class performance in sanitization for Handling Units, air conditioning ducts, ambient air, close environments, and surfaces, preventing the direct pathogens transmission with the combination of five different technologies.
Air filtration: ISO ePM10 60% type filters are installed in the AHU, the primary effective barriers against the spreading of dust and PM
New generation UVGI sterilizing lamps, with a higher radiation quantity (up to 30x) ensure effectiveness against pathogens up to 99,98%
A unique Bi Polar Cold-Plasma Ionizing technology that inactivates pathogens with a substantial reduction of virus bacteria and spores proliferation and contamination ability and, as a side benefit, a substantial reduction of odors, VOC and particulates
An advanced air quality monitoring system, registering 24/7 several key parameters to determine the Air Quality Index
A centralized automation facility, acting as data collection, monitoring and remote transmission for each device of the system, that can be used in combination with our monitoring suite One to extend the analytic capabilities.
The use of breathES will allow 24/7 sanitizing action, even in presence of people, without limitations and as it uses no chemical products. We have scheduled a first launch for the marine sector aligned with the refit of existing cruise ships and ferries. breathES will be available to shipyards and the cargo ship market – particularly in regard to sanitizing crew areas such as engine control rooms, galleys, offices, cabins, etc. both for newbuilding and retrofit.
Our system will undergo a large-scale trial and lab-analysis testing phase with major Class societies, to include our technology in the guidelines to improve air and surface sanitization (e.g. additional RINA class notation for BIOSAFE SHIP).