Towards decarbonisation by combining Molten Carbonate Fuel Cells and Carbon Capture.

During the session of Friday the 8th October at the Genoa Shipping Week dedicated to Green Ports&Shipping, Maurizio Archetti, President of Ecospray, and Barbara Bosio, professor of Applied Physical Chemistry at the University of Genoa, presented the new laboratory CapLab, a project that looks directly at decarbonisation by combining Molten Carbonate Fuel Cells (MCFC) and Carbon Capture.
The CapLab laboratory was established jointly by Ecospray and the Department of Civil, Chemical and Environmental Engineering of the University of Genoa with the aim of developing electrochemical cells for CO2 capture, the production of energy and the promotion of the hydrogen carrier. The new lab will focus on the development of Molten Carbonate Fuel Cells, a technology that allows carbon capture at the same time as energy production, therefore considered strategic in the context of the energy transition precisely for the ability to capture CO2 from exhaust fumes and generate additional clean energy.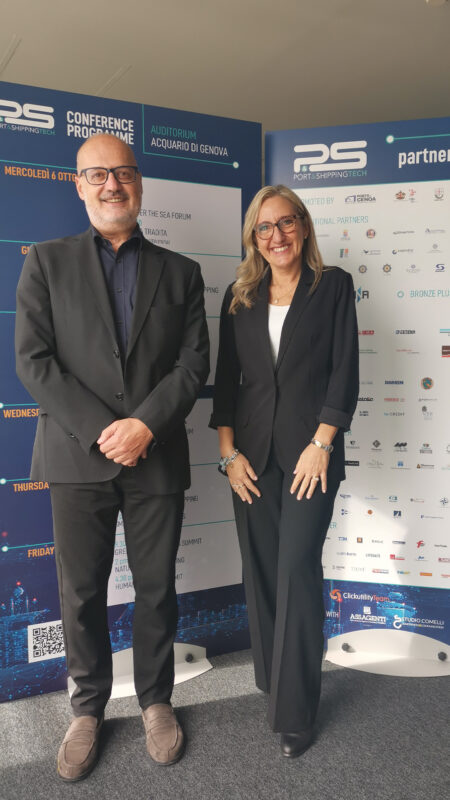 "Genoa Shipping Week has been the occasion to propose a new type of fuel cell for the maritime industry: we consider that this is the most suitable technology in order to reduce the emissions of CO2, and an effective answer to the IMO objectives for 2030 and 2050 – specifies Maurizio Archetti – and present how we are actively working towards the Zero Emissions goal".
Short Term
Optimization of MCFC cell component performance working on material proprieties
Testing different cell sizes, from few cm2 up to full scale
Comparing different methods of fabrication
Long Term
MCFC reversible cell operation to produce hydrogen during cruising and use hydrogen in local areas like ports or environment protected areas
Development of solid oxide electrolyzers for large scale hydrogen production
The CapLab laboratory, currently in the construction phase, will be completed within 2021 and inaugurated in January 2022 in Genoa, near Molo Giano.